Hydropneumatic Accumulators / Request for Quotation (RFQ)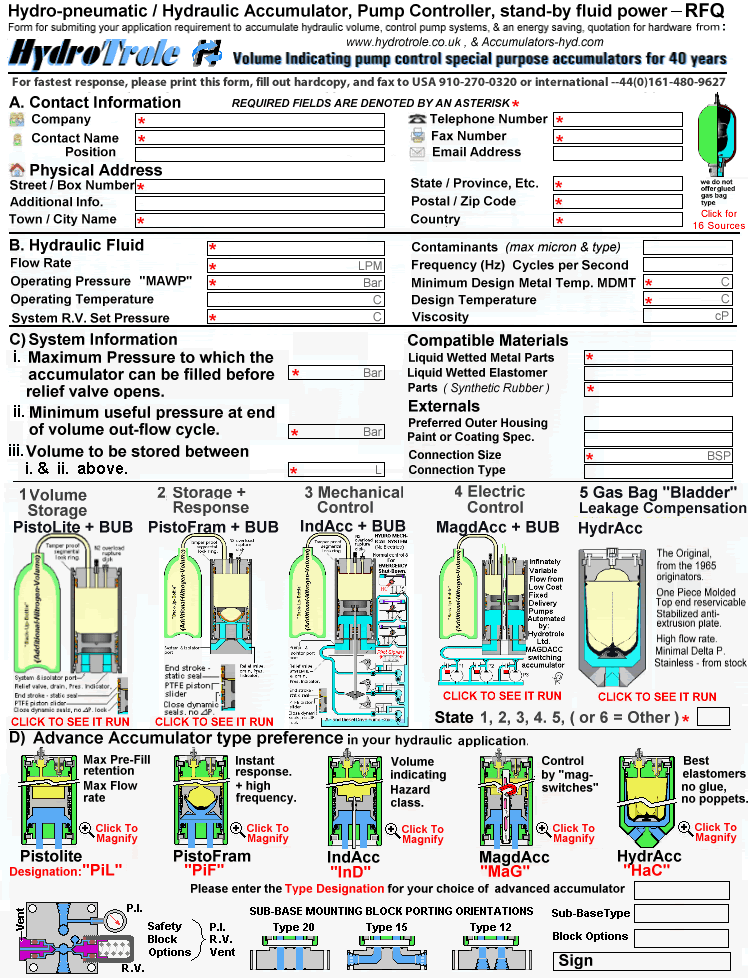 Please print and fax the PDF Hydropneumatic Accumulator RFQ to:
UK | Facsimile --44 (0) 161-480-9627

You can also make use of the contact information found below.
USA | Phone 910-270-2737 | Toll Free 1-888-326-7377
UK | Phone --44-161-480-9625 | Toll Free 08080 LO PRICE (56 77423)
Hydro-Pneumatics.eu contains automated forms so users can submit a request for quotation (RFQ). Liquid Dynamics Int'l specializes in system analysis services. PulseGuard, ShockGuard, and HydroTrole manufacture hydraulic accumulators, pulsation dampeners, and surge alleviators for applications including but not limited to: shock, surge, water hammer, pressure pulsation, and flow fluctuation in connection with distributors worldwide. Please select your language and hardware or service requirement for more information.
UK / English / Metric: Pulsation Dampers | Shock Alleviators | Hydropneumatic Accumulators | Piping System Analysis | Flow Guard Flow Fuzes
Language Alternates for This RFQ Form:
Hydraulic Accumulators | Hydropneumatic Accumulators | Accumulateurs Hydropneumatiques
Accumuladores Neumaticos Hidraulicos | Pneumatische Hydroakkumulatoren | гидропневматические аккумуляторы

---
Accumulators-Hyd.com | Hydraulic Accumulators
Hydropneumatic accumulators for your conservation and energy wastage. Hydrotrole manufactures bladder type hydropneumatic accumulators and piston type hydropneumatic accumulators in stainless steel, carbon steel, and plastics. Hydrotrole high volume usability, response + indicating hydro-pneumatic accumulators come in many designs and materials.

HydroTrole.co.uk | Hydropneumatic Accumulators
Hydraulic and Control Engineering since 1963. HydroTrole Ltd. has been supplying hydraulic / hydro pneumatic accumulators, pressure vessels and associated equipment for years. We offer all types: piston, bladder, piston-cum-diaphragm, piston-cum-indicating rod, piston-cum-magnetic switching, float and bellows; sizes from 0.1 to 5000 Liters; and pressures up to 3000 Bar (43,000 PSI).
---